There are several places in Park City to look at and enjoy art. There are many galleries to choose from and one of the best ways to get the most information is to look into going to the Last Friday Gallery Stroll. This event is hosted by the Park City Gallery Association. This monthly event is dedicated to highlighting artists and special exhibits at art galleries throughout town. From 6 to 9 pm the last Friday of each month people come out to enjoy all different artists and installations.
One of the most well known galleries is the Park City Fine Art Gallery located on main street. This gallery has several great pieces from paintings, sculptures, and many other contemporary western art forms. The experienced and friendly staff will be able to show you around and provide you with all the information you need about each artist and their works.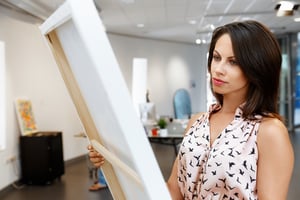 Another great gallery that has a variety of western and contemporary pieces is the Mountain Trails Gallery. The gallery here has a wide variety of artists working in several different mediums. You can find amazing sculptures all the way to impressionistic painting. This gallery has been around for several years and there are many great pieces to look at. There are many gorgeous landscape paintings and other western inspired pieces to enjoy.
Galleries in Park City are all over the place. However, one gallery that has stood the test of time is the Meyer Gallery. This gallery has been around since 1965 and has grown to be a contemporary art icon in the state of Utah. Here there are several pieces that are not only thought provoking but also give the guests a wide variety of collections to enjoy.
Historic parts of Park City have several galleries and art exhibitions. Visiting this town, you will find many places full of history and a variety of different art pieces. The art scene in Park City is rich and wonderful and should be enjoyed by those who come here.