While the 2018/19 ski season has come to an end at Park City, there are still a variety of activities to keep you busy while visiting this spring. Below are my top 5 'must-do's' on a spring visit to Park City, Utah.
Explore Historic Main Street
Step back in time, yet experience the sophisticated and mountain modern feel of Main Street. This cute mountain town hosts a Main Street that is the centerpiece of Park City and is on the National Register of Historic Places. Take a walk around Main Street where you can feel the historic Utah west and discover a variety of restaurants, bars and unique shops that are all local to Park City. Browse the store fronts, sip on coffee, delight in the dining scene, and feel the mountain culture of Main Street.


Take a Bike Ride
Experience why Park City has become the world's only IMBA-certified Gold Level riding destination. While the snow melts in the mountains, take a road ride throughout Park City and the surrounding areas. Test yourself on a hill climb or enjoy a long scenic tour that will branch off from town. There are a variety of road riding areas that a local bike shop will be happy to share with you. Have kids in your group? Take a gentle stroll on the Rail Trail where incredible mountain views await. Be sure to put Park City on your list to come back for summer mountain biking where trails for all levels await.


Chocolate like no other
Indulge in the best chocolate in the west! Stop into Ritual Chocolate where most locals will tell you this is a popular stopping point after skiing or biking. As you gaze through the window viewing the whirling chocolate machinery, step inside and instantly you will smell the cacao beans roasting. Take a glimpse of the chocolate coming off the rolling mill where all of your senses are coming alive to mouth watering chocolate delight. The co-owner noted that "Park City is an ideal place for a chocolate factory as they are inspired by the old, legendary chocolate factories in Switzerland." This chocolate factory has you feeling deep into the Swiss mountains as the Park City mountain backdrop surrounds you. Try the hand crafted chocolate bars and a deep chocolate beverages.


Dine Downtown
As you have strolled through town you may have noticed the many restaurants and bars with their menus slowly haunting at your appetite. Indulge in one of the many restaurants as Park City is known for a fantastic dining scene. Many locals will tell you dining is their favorite past time, after recreating. There is a diversity of cuisine for a smaller town that Park City is. In the summer, Park City set up a 1,500 seat table stretched out the length of Historic Main Street for the Savor the Summit's Grande Table event to create an evening of divine food and live music. Locals and visitors have their taste of why Park City is known for their food enticing 'foodies' from all over. Check out the restaurant listings atparkcityrestaurants.com/

Explore the parks and open Space
Park City is a very kid-friendly town where many locals and visitors will cruise around to the various parks and open spaces. Bring some chalk to creatively draw or hop scotch, or hop on the trail system to enjoy the fresh mountain air.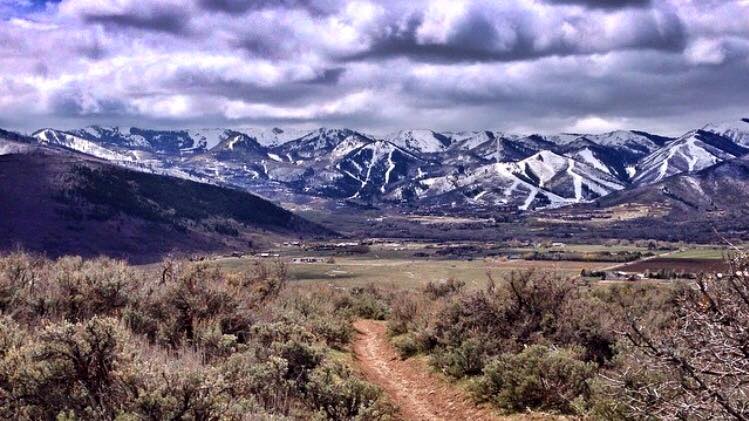 Photo: Park City in the spring where trails meet snow