Summertime in Park City brings days of sunshine and many great adventures. But sometimes it can get pretty warm out and in the sun in Park City can get pretty intense. One of the best ways to cool off is to get in the water and there are so many great water activities to get in some fun.
Aqua X Zone: Looking for one of the most fun activities on the water? Look no further than heading to Aqua X Zone. This is a floating obstacle course and activity area on top of water at the Jordanelle Reservoir. Coming here with the kids for a day of swinging, climbing, bouncing, and playing on water will surely be a great time. Located about 35 miles east of Park City, this is a great little getaway for a daytime adventure. This is for kids ages 6 and up.
Barefoot Tubing: Sometimes on a hot summer day, there is nothing better than floating down a river. If this sounds like a perfect way to escape the summer heat, head to Barefoot Tubing located in Morgan Utah. Just under an hour drive from Park City, tubing here is a great way to enjoy the river. There are parts of the river classified as class II mild whitewater rapids, so it will be an adventurous ride. This outfitter provides you with a life preserver, a sturdy tube, and a shuttle service.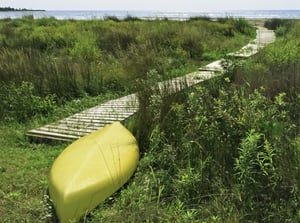 All Seasons Adventures: There are so many great places to go kayaking and rafting throughout Park City. If you are looking for an outfitter that will provide you with a great day trip with all of the proper gear to get you out on the river then make sure to look into All Seasons Adventures. Here they are known for their great trips down the river. Head down the Weber river and take in all the beautiful views while tackling some rapids along the way.
Park City has a variety of different outfitters and guides to make sure your summer days will be full of fun. There are tons of activities to choose from and many ways to cool off during the heat. Even if you do not have much experience in a lot of the water sports, there are so many well trained guides available to get you started.